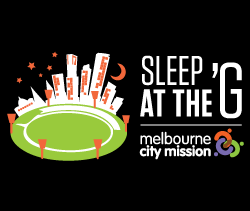 On the night
Welcome to the Melbourne Cricket Ground (MCG)
In the same spirit that we welcome young people who walk through our doors, you will be warmly welcomed as you arrive at the MCG by volunteers and staff from Melbourne City Mission.
You'll receive your bed for the night… a cardboard box along with your official Sleep at the 'G tote bag and a fundraising reward for those who've hit the reward targets.
It will be chilly, so please bring warm gear, like a sleeping bag, blanket and extra layers to wear.
Please bring your printed entry ticket
A printed copy of your MCG entry pass is required to enter and exit through the turnstiles on the night. Find your "Thanks for registering" confirmation email. Click on the link for the PDF of your ticket, and print it out. Keep your ticket on you for the duration of your stay at the MCG.
You'll need to show your ticket if you want to come and go from the event during the night, while the turnstiles are open.
Get to Gate 2
Nearest street: Jolimont Terrace
Nearest train station: Jolimont or Richmond.
It's 1.3km on foot from Flinders Street Station. Walkable from the CBD. 
Gate opens Thursday 5pm
Remember to bring your entry pass – a printed copy of your ticket. To find your entry pass refer to the confirmation email we sent you which also has your entry barcode included.
Security
MCG security will greet you as you approach Gate 2, checking your entry pass and bags.
All patrons will be subject to security wanding prior to entering the stadium.
This is just like walking through a metal detector at the airport only this time it's a wand. It may slow down the entry process so be prepared for some delays. Your patience is appreciated.
Please don't bring liquids
There's hydration and refreshments inside. No alcohol or illegal substances. These will be confiscated and you may be refused entry.  Make sure you understand the MCG Conditions of Entry prior to arrival.
Gate closes Thursday 8pm
Pick your place
You and your team will be directed to your sleeping area for the night.  If you have a large team, you should get in as early as you can to increase your chances of securing a large space.
Dinner
You'll receive basic, nutritious soup-kitchen fare – the kind of food many people rely on when living on the streets. You'll have plenty of tea, coffee and water available too.  Pies are available for purchase.
Thursday night program
We have a big night of informative presentations, team activities and games to play throughout the MCG.
Follow the Melbourne City Mission Facebook page for exciting news about the program, speakers and activities.
Friday morning wake-up
5am is when the early risers start to stir, the turnstiles start clicking over and a basic breakfast begins in the Bullring Bar. Around 6am is when most sleepers are up and on their way. 
You are welcome to sleep in a bit longer – all guests must depart the MCG by 8am.
Speakers
In 2018, we are planning to have a wide range of speakers and presentations from young people, youth workers, community volunteers and business leaders who will offer a different perspective on the current state of homelessness across Victoria. At the event you'll not only have the opportunity to learn about the issues facing young people, you'll learn about some of the ways you may be able to help people in your community.
Checklist to bring
Entry ticket: A printed copy of your MCG entry pass to get through the turnstiles (find your registration confirmation email)
A pillow if you want one
Sleeping bag and/or blanket/cover
Earplugs (to combat snoring!)
Warm clothes (why not get that onesie out and join in the Fashion Show!)
Yoga or camping mat, if you want an extra layer of warmth to sleep on
Your favourite snacks
Any games and activities you want for the night
Fully charged mobile phone with the Sleep at the 'G app!
Portable phone charger (there are no power points available)
Cash (pies and soft drinks available for purchase)
Pre-booked car parking/top up Myki
Download our Sleep at the 'G checklist poster!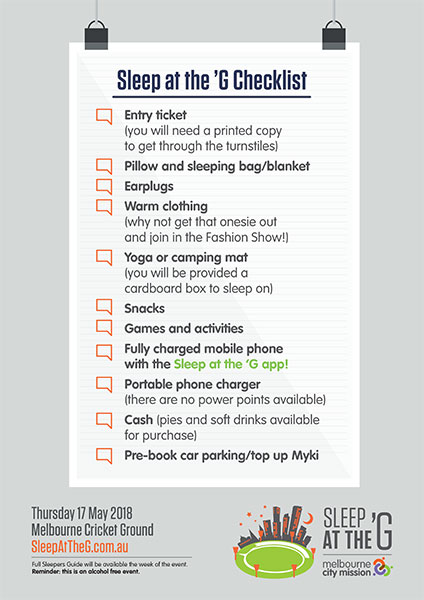 #SleepAtTheG
Not many people get to spend a night at the MCG, so share the experience by hash tagging your pics.
Take advantage of the venue's free wifi to show off your cardboard bed (or Pyjamas!) and what you're up to. Plus, it's a great way to ask friends and family to donate to the cause.
Use #SleepAtTheG when you get social on Facebook, Instagram and Twitter.
Progress so far
Connect with us